Ickis reached his status as an AKC champion in the summer of 2011. Many of the judges complimented him on his movement and disposition as he welcomed them with a wagging tail. With help from my handler, Paul Catterson, we were able to finish him in 3 show weekends. The most difficult part was finding other Corsi to compete against! Many people do not understand that showing a dog requires the dog have a stable temperament. Even a breed such as the Cane Corso that is protective in nature and wary of strangers should accept the non-threatening exam of the judge. Corsi that are not stable, poorly socialized and/or overly fearful in the show ring may be excused by the judge.

What is Conformation?
AKC has designed their conformation events to allow for judges to evaluate the structure of dogs. The judge is expected to compare each dog (and bitch) to the written breed standard. Each judge will have his or her own personal preferences, but always considers the written standard. The Cane Corso is a working breed, so proper structure is crucial. When considering the correct size and temperament, a Cane Corso which is not structurally sound will break down over time and will become lame. There is no such thing as a perfect dog, so each dog will have his or her strengths and weaknesses. Watching a dog move around the show ring in a trot brings all the pieces together. It allows the judge to see how the shoulders work, how the hips move, and how the entire dog functions as one unit. The Cane Corso is a trotting breed. He should be able to work all day with his owner without tiring from wasted movement. The Cane Corso's movement should be free flowing and powerful, yet effortless. An example: If a Cane Corso has what is commonly referred to as straight shoulders, his front legs will hit the ground closer to his body as opposed to farther out in front of him. When the front feet hit the ground closer to the center of gravity, each foot holds more weight when it makes contact with the ground than if farther out in front. This will cause more pounding in the shoulders and cause break down of the joint over time.
Movement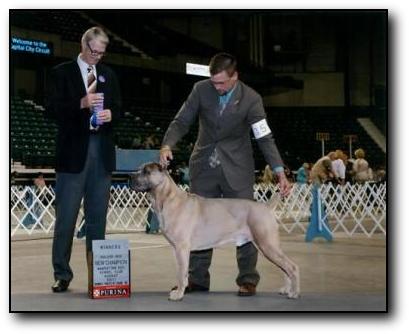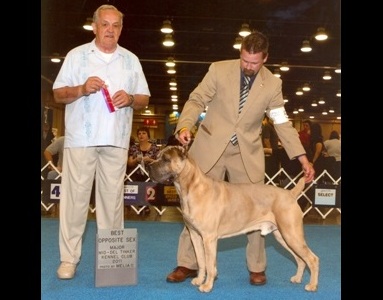 Oklahoma City Summer Classic 2011
Best of Opposite
Handled by
Paul Catterson
Oklahoma City Summer Classic 2011
Best of Opposite
Handled by
Paul Catterson
Topeka, Kansas
Best of Breed
8/19/2011 and 8/21/2011
Handled by
Paul Catterson
Topeka, Kansas
Winner's Dog
Handled by
Paul Catterson
Maleficent's Success in Conformation
Maleficent did very well with her handler Jaime Scott. She finished her AKC Champion title with only major wins and did well at the Cane Corso Association of America Regional and National Specialty. She received many compliments from the judges as well as spectators. Here at Difesa Cane Corso, we don't believe a dog of any breed she be encouraged to be overweight in order to have success in the conformation ring. Maleficent entered all of her shows at a healthy lean weight and she continues to work out on the IPO field.
A breed is a relatively homogenous group of animals within a species, developed and maintained by humans. Kennel clubs are registrars for dog breeds. They maintain pedigrees and, in many cases, govern events where a person can have their purebred dog evaluated by a neutral party. The Cane Corso as a breed can be registered with many kennel clubs within the US. The three most accepted registrars in the US for the Cane Corso are the American Kennel Club (AKC), the United Kennel Club (UKC), and the International Cane Corso Federation (ICCF). Each club has a written definition of what makes a dog correct for his or her breed. This definition is called a breed standard. When dogs are taken to a dog show, they are presented to a neutral party (judge) to be evaluated and compared to the breedís written standard. Conformation is the shape and structure of a dog. When a dog is shown at a dog show, his conformation is compared to that which is written in the standard. Some of the components of conformation are shoulder lay, rear angulation, topline and tail set. Every breed is different and it is the differences that define them as a breed.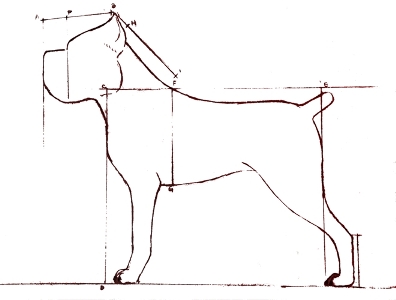 What makes a dog a Champion?
In order for a dog to become a Champion in the AKC or UKC, he or she must earn points. In the AKC, a dog must earn 15 points and in the UKC he must earn 100 points. Points are earned by defeating other dogs in the ring. Even though each dog is not compared to the other but instead to the standard, when a dog defeats those other dogs, he gets points. For simplicity's sake, the AKC will be the example. At the first level of the show, a judge will judge a single breed. That is to mean that he or she will look at all of the entered Corsi until all the Corsi have been evaluated. The judge, however, does not look at all the dogs in a single breed at the same time.The breed is split into classes. These classes are generally differentiated by age. The youngest puppy that can show to earn points in the AKC is a 6 month old puppy. There is a 6-9 month class, 9-12 month class, 12-18 month etc. There are also Veteran's class, Bred by Exibitor class, and Open class to name a few. The open class is generally "everybody else" other than the dogs within a breed who already have a Champion title. The classes are judged one at a time from male to female. That is to mean that the male dogs from each class will be evaluated, then the females from each class will be evaluated. The winners of each of the classes all show together to see which one will win Best of Breed. When all of those dogs are in the same ring, it is generally referred to as the Breed ring, The judge will select his or her choice for Best of Breed, Best of Opposite Sex, Best of Winners, Winner's Dog, and Winner's Bitch. Best of Breed is "first place", Best of Opposite is "second place", and so on as they have been listed above. When a dog wins one of these titles, he or she earns a set amount of points based on how many dogs he or she beaten. The set amount of points will vary between each breed and each region of the United States. Of the 15 points earned to become a Champion, a dog must have at least 2 majors. This means they can't get a Champion title by only ever beating one dog at a time. A major also varies by each breed and each region of the US. For example, in the Northeast region, and Cane Corso must defeat at least 5 others of the same sex in order for get a 3 point major. The number of points can also differ between the sexes. The dog must also have earned his or her 15 points from at least 3 different judges. Being an AKC Champion is a prestegious title and can be a lot of work.
Ickis' Success in Conformation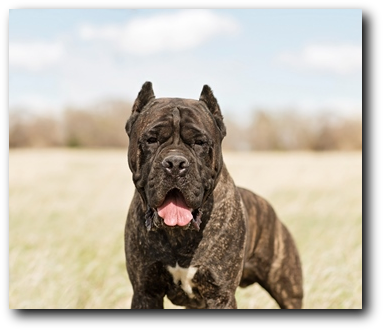 Millwood, Virginia 2014
Best of Winners
9/27/2014 and 9/28/2014
Handled by Jaime Scott
Friendship, Maryland 2015
Best of Winners
Handled by Jaime Scott
Fletcher, North Carolina 2015
Best of Winners
Handled by Jaime Scott
Fletcher, North Carolina 2015
CCAA Southern Regional Specialty
Winner's Bitch
Handled by Jaime Scott