I met my first Cane Corso when I was a young girl. That was when I knew I had to have one. My husband and I were born and raised in South Jersey and it wasn't until we graduated college and settled that we decided to purchase our first dog. Our only dog at the time, an American Pit Bull Terrier, was rescued at a young age so dog shopping was new to the both of us. We decided what we were looking for in a Corso and started interviewing breeders. We looked for about 6 months before we settled on BluSteel Cane Corso. We chose his parents and waited until they were bred. We knew we wanted a confident, outgoing male, and that is exactly what we got.
Because of my experience as a Veterinary Technician, I am well versed in preparing new owners for their new puppies. It became time to apply all that I had been teaching to clients, my family, and me. We have worked with all of our dogs, as soon as they come home - socializing them, training them, and grooming them to be the awesome dogs they are today. We both know the importance of nutrition, exercise, and good quality veterinary medicine and do the best we can for our dogs. We home prepare their meals, walk them daily, and take them to visit their veterinarian regularly for health screens.
We offer fantastic Corsi. We promise to do so with the utmost integrity, respect and sincerity. We have worked with our dogs and through various certifications and competitions, as well as acquiring the opinions of professionals, in order to know they are what we strive for: of sound temperament, courageous, protective, and athletic. They are great representatives of the Cane Corso.

~Stephanie and John Rudderow
Cane Corso Rescue Work
Rescue work has always been a passion of mine. Owning a dog is a life time commitment. If you are not prepared for a 13-15 year commitment, don't purchase or adopt a dog. Instead, consider fostering. We currently do as much as we can on the rescue front with Corsi and Pit Bulls. Please visit the
Rescue Corsi
page for specific stories of Corsi that have been helped by Difesa Cane Corso.
Purchasing a Cane Corso
Our Way
Our Promise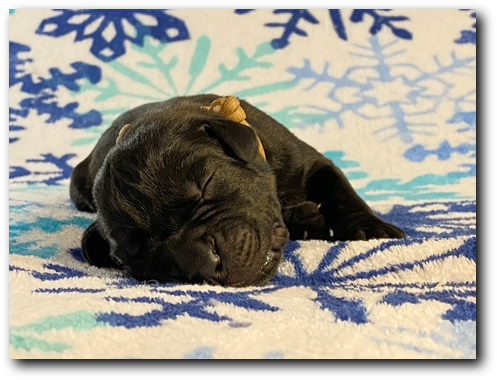 What We Strive for
Our goal at Difesa Cane Corso is to improve the breed by only providing worthy dogs for reproduction. Although our dogs are part of our family, if they don't meet the high standards we have set for them, they will not be used in our breeding program. To us, it is more than pedigrees and kennel names; each individual dog must prove him or herself in the show ring and out on the working field. At Difesa Cane Corso we strive to produce dogs with strong stable temperaments to work and be family members, have excellent conformation for easy movement on the field, and for Corsi that meet the breed standard as well as healthy dogs free and clear of problems plaguing the breed.